UPDATE 8/29/23: Please see the attached Distribution Summary for details of what MDT II's beneficiaries (the opioid creditor trusts) have received under the Restructuring Support Agreement, dated August 23, 2023, in lieu of the original Opioid Deferred Cash Payments.
Overview
Welcome to the website of the Mallinckrodt Opioid Master Disbursement Trust II ("MDT II"). This site is intended to assist those beneficiaries of MDT II, namely the public creditor trusts and the private creditor trusts, which were established pursuant to the chapter 11 Plan confirmed in the bankruptcy cases of Mallinckrodt plc, In re Mallinckrodt plc, Case No. 20-12522 (Bankr. D. Del.) The MDT II was created by the Plan, which was confirmed by order March 2, 2022, and became effective June 16, 2022.
The MDT II is a newly-formed "hub" trust in a "hub & spoke" trust design, as shown in the below graphic,[1] created to provide distributions (from funds to be paid by Mallinckrodt and other consideration received pursuant to the Mallinckrodt plan) to the "spoke" beneficiary trusts, including public creditors (NOAT II for the U.S. States and local governments within U.S. States and the TAFT II for the federally recognized American Indian Tribes) and private creditors (e.g., personal injury victims, persons afflicted by neonatal abstinence syndrome ("NAS"), hospitals).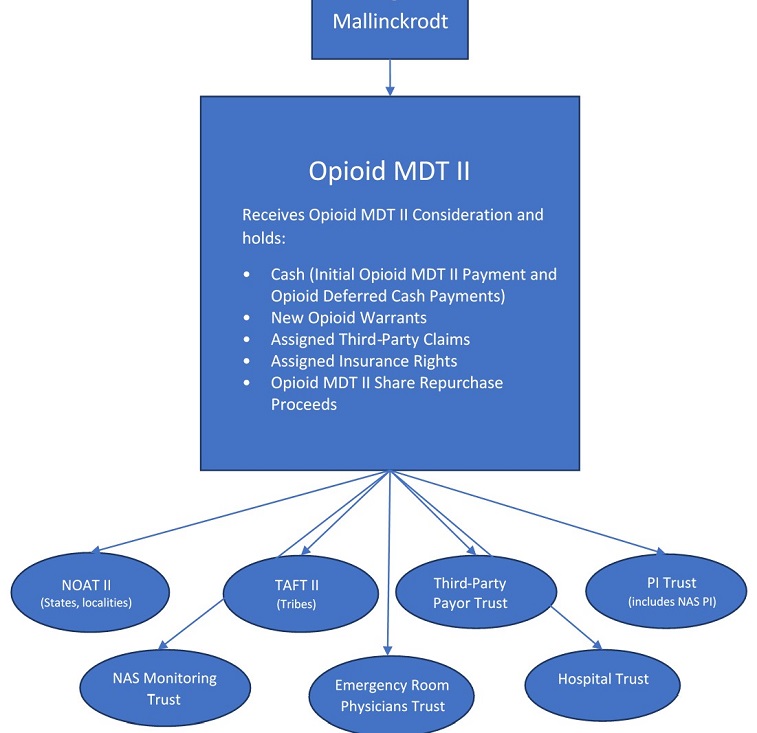 The MDT II's primary responsibilities are to: (i) receive the upfront and deferred opioid settlement funds from Mallinckrodt; (ii) monetize the New Opioid Warrants; (iii) investigate and pursue claims against third parties that are assigned to the MDT II; (iv) fix a bar date and administer "Other Opioid Claims" that were not resolved as part of the Plan; and (v) make distributions to the public and private creditor trusts. These creditor trusts shall further disburse funds to their respective creditors who must use the settlement proceeds for approved opioid abatement strategies, or in the case of the personal injury trust, to compensate individuals for damages because of opioid-related bodily injuries.
The MDT II Trustees are Michael Atkinson, Anne Ferazzi, and Jenni Peacock. Biographies for the Trustees are located on the Trust Leadership page. You can access relevant documents to the MDT II Trust, by navigating to the Important Documents page.
1 The Initial Opioid MDT II Payment was shared with three additional entities: the Department of Justice, the Public Schools' Special Education Initiative Trust, and the Ratepayer Account.